VZM™ 100i Zoom Imaging Lens
Length excluding Threads (mm):
151.70
Horizontal Field of View, 1/2" Sensor:
25.6 - 6.4mm
Horizontal Field of View, 2/3" Sensor:
35.2 - 8.8mm
Working Distance Tolerance (mm):
±3
Resolution, Object Space:
17.5 lp/mm - 32 lp/mm
Primary Magnification PMAG:
0.25X - 1X
Regulatory Compliance
Product Family Description
Designed to Accomodate up to 2/3" Sensor Size Formats
Dependable, Versatile Performance in Compact Designs
Analog and Digital Imaging Systems Available
VZM™ Zoom Imaging Lenses enable inspection of a wide range of objects without the inconvenience of changing working distances. In addition, the parfocal zoom allows magnifications to be easily changed without refocusing. These economical lenses are available in working distances ranging from 35mm to 175mm and offer a maximum 2/3" sensor format. Iris versions (i-series) all have locking iris, front filter thread, removable mounting flange, and optional zoom lock. All lenses have a 50mm diameter flange (removable on iris versions except 450i Right Angle) for mounting. VZM™ Zoom Imaging Lenses are ideal for inspection of integrated circuits and solder joints. Also suited for quality control and laboratory inspection needs, as well as surface analysis.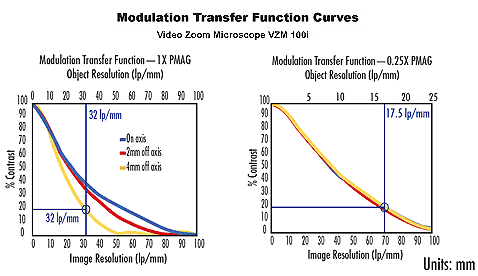 Technical Information
VZM Model

100i

200i

300

300i

450

450i

600i

1000

1000i

Zoom Ratio

4:1

4:1

4:1

4:1

6.4:1

6:1

6:1

4:1

4:1

Magnification

0.25 - 1X

0.5 - 2X

0.75 - 3X

0.75 - 3X

0.7 - 4.5X

0.75 - 4.5X

1 - 6X

2.5 - 10X

2.5 - 10X

Manual Iris

Rotatable Mount

Zoom Lock Adapter

Motorized Version

Right Angle Version
Additional VZM 200i Lens Specifications
Primary Magnification

With 0.5X Lens

Minimum 0.25X
Maximum 1.0X
FOV (½" Horizontal Sensor)
24.0mm
6.0mm
Resolution in Object Space
10 lp/mm
40 lp/mm
Resolution in Image Space
40 lp/mm
40 lp/mm
Working Distance (±3mm)
152mm
152mm
Additional VZM 450 Lens Specifications
Primary Magnification

With 0.5X Lens

Minimum 0.35X
Maximum 2.25X
FOV (½" Horizontal Sensor)
17.6mm
2.8mm
Resolution in Object Space
12 lp/mm
80 lp/mm
Resolution in Image Space
34 lp/mm
35.5 lp/mm
Working Distance (±3mm)
147mm
147mm
Additional VZM 450i Lens Specifications
Primary Magnification

With 0.5X Lens

With 0.25X Lens

Minimum 0.35X
Maximum 2.25X
Minimum 0.175X
Maximum 1.125X
FOV (½" Horizontal Sensor)
17.6mm
2.8mm
35.2mm
5.6mm
Resolution in Object Space
12 lp/mm
80 lp/mm
6 lp/mm
40 lp/mm
Resolution in Image Space
34 lp/mm
35.5 lp/mm
34 lp/mm
35.5 lp/mm
Working Distance (±3mm)
147mm
147mm
275mm
275mm